For a fashion lover, I don't spend much time flipping through the magazines or drooling over images from various fashion weeks around the world. And this is why:
This woman
and
this woman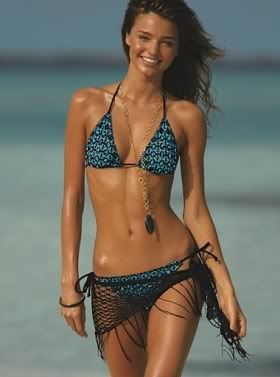 are the industry standards of "curvy", "fleshier", and "voluptuous" and industry big-wigs are having a great time patting themselves on the back for breaking the "weight barrier".

It has even gotten to the point, after a
death of a model
from heart failure after stepping off the catwalk, that the industry is being pushed to institute minimum BMIs and provide food backstage.
To folks like
Karl Lagerfeld
, I say, "Give me these gorgeous, fit women on the catwalk any day..."
..."and tell your models who have to run around in the shower to get wet that we aren't buying what they're selling."
(PS. I'm pretty sure that
modern Venus
in the first picture would count as being round. And I'm pretty sure that plenty of people are more than pleased to look at her.)