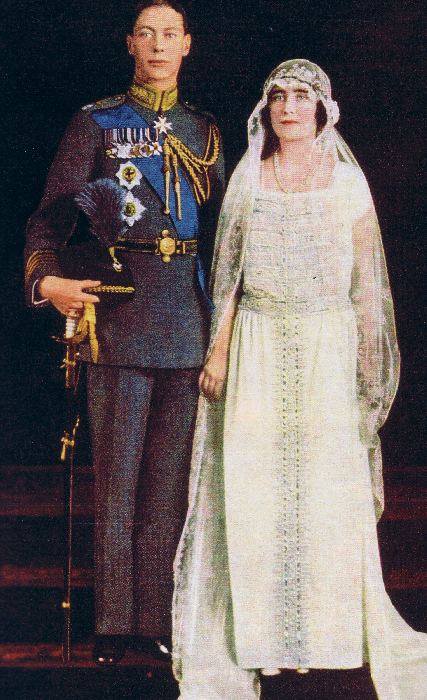 Prince Albert, Duke of York (later King George VI) and Lady Elizabeth Bowes-Lyon were married on April 26, 1923.
After proposing to Lady Elizabeth three times, Prince Albert was finally accepted on January 13, 1923. Elizabeth did not refuse Bertie because she did not love him, but because she was reticent to enter a life of public service and celebrity.
The princess-to-be was given a sapphire and diamond engagement ring, sapphires were said to be her favorite stone.
Lady Elizabeth's gown, described by the London Times as "the simplest gown ever made for a royal wedding", was designed by Madame Handley Seymour, a former London court dressmaker. It was made of pearl embroidered ivory chiffon moiré dyed to match the veil perfectly. The veil itself was borrowed from Queen Mary and was secured with a wreath of myrtle, white roses and heather.
Lady Elizabeth had eight bridal attendants from the British aristocracy who were dressed in a similar fashion to the bride.
The wedding ceremony took place in London's Westminster Abbey. As the bride began her procession down the aisle with her father, she placed her bouqet of white roses on the Tomb of the Unknown Soldier in somber remembrance of the fallen soldiers of the recently ended First World War. The bride had lost her brother Fergus in the war and herself had spent the war caring for wounded soldiers.
It is important to remember that when one marries into royalty, they become not just a spouse, but a representative of an entire people. The Archbishop of York reminded the couple of this in no uncertain terms during the ceremony when he stated, "The warm and generous heart of this people takes you today unto itself. Will you not, in response, take that heart, with all its joys and sorrows, unto your own?" This seems to almost foreshadow the unprecedented manner in which Prince Albert was later to reluctantly become King George VI and the tumultuous times in which they would reign together, steadfast and courageous in their commitment to the United Kingdom through the horrors of World War II.
You can learn more about the lives of the Duke and Duchess of York and their controversial rise to the throne in the Oscar nominated film
The King's Speech
.
King George passed away in 1952, it is believed that the great stress of reigning through World War II contributed to his untimely death. In 2002, at the age of 103, Queen Elizabeth the Queen Mother died. I was studying abroad in London at the time and I was able to attend her funeral procession. It was clear that she was much beloved by the people of England as well as her own family, I'm sure Prince William will be thinking of his dear great-grandmother on his wedding day this April, 88 years and 3 days after her marriage to Prince Albert.
And here is a sweet video of the wedding day. I can imagine how fun it would be to replicate this style of videography for a present day wedding.