One great way to get a handmade look for less is to purchase a ready-to-wear wedding gown in a plain, simple design and then look at it like a blank canvas for your bridal design expression. Stores like David's Bridal of course always have economic choices. At $250, this was the lowest price gown currently on the
J Crew website
.
For one look, pair it with this $22
handmade bolero
for a pop of color and a look that is unique.
You could also sew on some handmade pieces. These
organza flowers
available in sets of ten for $3 on etsy would make a lovely asymmetrical cascade starting on one shoulder, continuing down the back.
For a bolder look, you could add several fabric flower corsages like
this one
for $8.50 also from etsy.
Another idea is to keep the dress simple and make the fashion statement all about bold accessories that will steal the show. It is justifiable to splurge on accessories because there will likely be opportunities in the future to wear them again (which more likely than not will not be the case for your wedding gown). For example, you could have the
hem shortened in front
(image for visual aid purposes only!) and don a truly stunning pair of shoes that won't go hiding under a modestly long gown.
And rock a bold handmade necklace
Or an over-the-top hat or headpiece: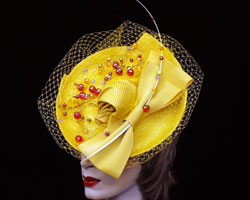 or like this somewhat more demure one available for just $145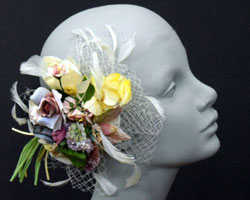 (both pieces from
Gena Conti Millinery
)
You may also want to consider custom-dying your gown a la Gwen Stefani for a true rockstar look.
And you don't have to give up on the idea of a handmade gown. If you or a friend sews reasonably well, there are a large number of quality commercial bridal patterns available that can make the process fairly simple. (A word of advice from a bride who has
made her own wedding gown
: do NOT procrastinate! Give yourself plenty of time to sew and make mistakes and get help, etc. Plan to be done two months before your wedding so you can have those last several weeks to deal with the final details and RSVPs, etc.)
This simple but elegant pattern is
available
at any fabric store that carries Vogue patterns. When you sew your own, the options are limitless. You can be creative with colors and fabric textures, and pick great detail items such as exciting buttons (for an off-beat look, get vintage buttons and have each one be unique).