*
(to make my life a little easier, I am using RWR to stand-in for
Royal Wedding Retrospective
)



I decided to start with Charles and Di, because they are going to be the most obvious point of comparison when Kate and Wills tie the knot.
For all the highly publicized drama that their relationship came to be known for, it is impossible to imagine a marriage getting off to a more spectacular beginning. Diana, a mere 20 years old on her wedding day, was certainly a 1980s version of a fairy-tale princess. She possessed a grace, charm, charisma and beauty that was (in this fashionista's humble opinion) a bit lacking in the Royal family. Her shy eyes, friendly smile, and compassionate manner stole the hearts of millions worldwide.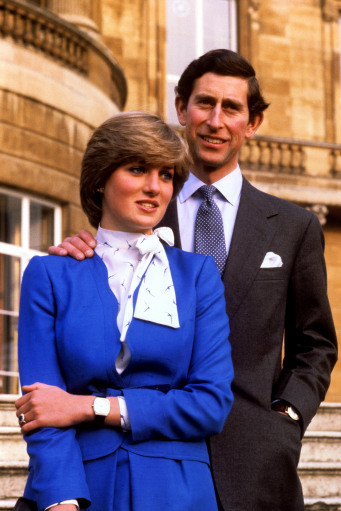 The couple became engaged in February 1981. Diana's engagement ring was a
Garrard Jewelers
18 carat oval sapphire surrounded by 14 diamonds set in white gold. The ring gained additional significance and attention when Prince William offered it to Kate Middleton upon his proposal.
The wedding, touted by many as "the wedding of the century", took place on July 29, 1981 at St. Paul's Cathedral. Royal weddings traditionally take place at Westminster Abbey, the change in venue was decided upon because St. Paul's offers more seating and church guests numbered 3,500.
At least 600,000 people lined the streets of the processional route in hopes of gaining a glimpse of the Princess Bride while an astounding 750 million viewers watched the nuptials on television.
Diana's gown was so enormous that she and her father could not comfortably fit into the glass coach that carried her along the processional route and when she emerged from the conveyance, the skirt was noticeably crumpled.
The silk taffeta gown, designed by
Elizabeth and David Emanuel
(who have since written a
book
on the subject), boasted a 25 foot train, 10,000 hand-stitched pearls and sequins as well as hand-worked embroidery. Despite its grand opulence, the gown possessed a modesty befitting the decorum of the Royal nuptials.
Diana had five bridesmaids, ages 5-17 in attendance with her. Their gowns are in many ways mini-replicas of her gown.
After their ceremony, and before their relatively intimate palace reception of 120 guests, Charles and Diana stepped onto the balcony of Buckingham Palace to acknowledge their admiring subjects. It was at that time that the Prince and his new Princess shared the first public Royal kiss.
Diana's gown and the grandeur of her wedding were hugely influential on 1980s weddings. Leg o' Mutton sleeves, lace appliques, and ballgown sillhouttes dominated bridal fashions of the decade.