Possibly one of the most iconic weddings of modern times, the marriage of Prince Ranier III of Monaco to American actress Grace Kelly was exceedingly glamorous, sparking the romantic imaginations of millions worldwide.
Ranier and Grace first met in May 1955 at the Cannes Film Festival. They were engaged by December. Grace Kelly actually received two engagement rings. The first was a
Cartier
infinity band of rubies and diamonds.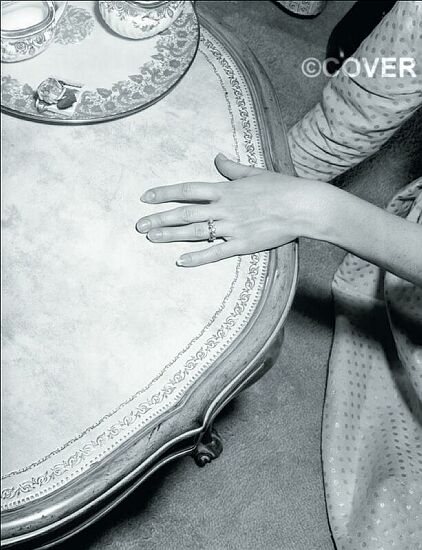 However, apparently upon a trip to Los Angeles, the Prince saw that the American actresses were all sporting large diamond engagement rings and thus he bought his betrothed a ring with 12 carat emerald cut diamond flanked by baguettes.
The actress-turned-Princess also had two weddings. The first was an intimate civil ceremony held in the throne room of the Monaco palace on April 18, 1956, followed by a grand gala where citizens of Monaco had the opportunity to personally shake hands with their new Princess. The Princess wore a modest and chic two-piece ensemble* of pink taffeta with an overlay of cream Alencon lace and a charming pink Juliette cap.
The religious ceremony was held then next morning at St. Nicholas' Cathedral, witnessed by 600 church guests and an estimated 30 million television viewers in Europe alone. (To give readers an idea of the immensity of the viewing audience, in 1960 there were an estimated 52 million television sets in the United States).
Princess Grace, widely known as a
fashion icon
, was downright luminescent in her
Helen Rose
gown of Brussels rose point lace and silk, thought by many to be the most beautiful
wedding gown of all time
. The gown was simple in design and impeccably constructed, giving center stage to Grace's natural beauty and elegance.
Given the scale of the affair, Kelly's entire appearance was understated yet undeniably sophisticated. The high neckline, long sleeves, chapel-length train and diminutive bouquet of lilies-of-the-valley lent a modest, pious and unassuming brilliance to the gorgeous actress.
Kelly's six bridesmaids (you can read about them in
this book
) wore unadorned yellow silk organza Priscilla of Boston gowns.
The wedding's uncomplicated, graceful style belied the glamor of the event. Included among the guests were various heads of state and diplomats, Cary Grant, Aristotle Onassis, Gloria Swanson, Ava Gardner and hotelier Conrad Hilton (acting as a representative of US President Eisenhower).
Grace Kelly's gown has a timeless quality that was widely emulated in the 1950s and 1960s, and continues to provide inspiration to this day.
Monique Lhuillier gown
I was unable to discover the designer of the civil ceremony outfit. If any readers have this information I would love to know!